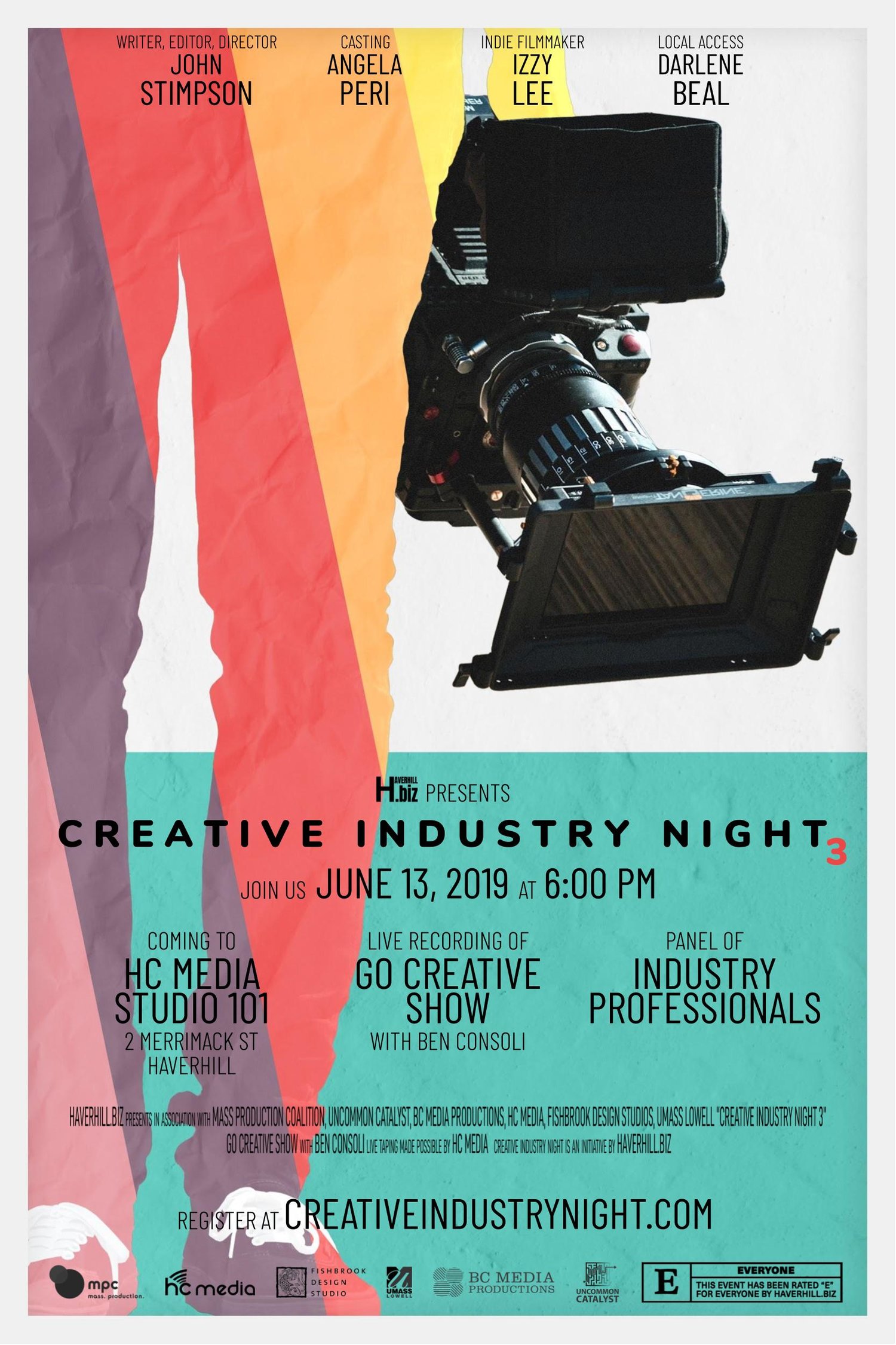 About the event:
Creative Industry Night 3 brought together members of Haverhill's creative economy for a night of networking and entertainment. The event was held at Haverhill Community TV's Studio 101, 2 Merrimack St, Haverhill for the third in our continuing series; and we highlighted the film and television industry in the Merrimack Valley.
The event kicked off at 6 pm, and featured a live recording of the Go Creative Show with Ben Consoli, owner of Haverhill-based BC Media Productions.
Guest speakers included:
The event will also highlighted resources for budding filmmakers available through Haverhill's award-winning cable access provider - HC Media
The event was free and open to the public, but registration was required
About The Go Creative Show
The Go Creative Show is the melting pot of all things new, inspired and experienced by creative professionals in the video, film, TV and music industries. With listeners in over 180 countries, The Go Creative Show has become one of the most listened-to podcasts of its kind. It continues to grow as more and more creative types become addicted to this illuminating little capsule of shared experiences and gear talk each week.
About Angela Peri
With 30+ years of casting experience in the Boston area, Angela Peri, C.S.A., is the owner and founder of BOSTON CASTING, INC. Known as the hardest working woman in show business, Angela is a member of the Casting Society of America and an original member of the Massachusetts Production Coalition. Angela founded BostonCasting in 1991, and has cast thousands of national, regional and local productions from feature films to commercials, television series, industrials and reality television. Angela's recent credits include WONDERLAND starring Mark Wahlberg, KNIVES OUT with Daniel Craig, Frankie Shaw's SMILF, David O. Russell's Academy Award® nominated films JOY and AMERICAN HUSTLE. Other notable projects include PROUD MARY starring Taraji P. Henson, I FEEL PRETTY starring Amy Schumer, EQUALIZER 2 starring Denzel Washington & CITY ON A HILL starring Kevin Bacon. Additional films include: STRONGER, CHAPPAQUIDDICK, PATRIOTS DAY, TED& TED 2, THE FORGER, SEX TAPE, THE FIGHTER, EQUALIZER, THE JUDGE, R.I.P.D., HERE COMES THE BOOM, THE PROPOSAL and LABOR DAY.
About John Stimpson
John Stimpson is a writer, director, producer and editor. Having worked extensively in episodic, documentary style television on programs for Discovery, Animal Planet, HGTV and Outdoor Life, Stimpson turned his focus on scripted, narrative projects in the early 2000's. Over the last fifteen years he has directed multiple independent films including Ghost Light, The Legend of Lucy Keyes, A Christmas Kiss, Sexting In Suburbia and The Wrong Car and edited, produced and consulted on many others. His interest in film and television began at Harvard where he majored in Visual and Environmental Studies and was President of the Hasty Pudding Theatricals. He then spent five years as a professional actor in Los Angeles before returning to the East Coast and refocusing his talent on the other side of the lens.
For Stimpson the filmmaking process is about capturing magic - on the page, in the performance and ultimately on the screen - that moves an audience. "It's the ultimate collaborative creative medium." John is a member of the Mass Production Coalition and on the board of FILMA (Film it Locally in MA), actively promoting and lobbying for the Film and Television Industry in Massachusetts and Commonwealth's Film Tax Incentive which has been vital to the recent surge of local production activity.
About Izzy Lee
Izzy Lee is a writer and twice-Rondo Award-nominated filmmaker. She has been a film festival programmer with the Boston Underground Film Festival and Boston Sci-Fi Fest, as well as a genre journalist. She has written for Birth.Movies.Death., Rue Morgue, Fangoria, and Diabolique, and is an editor for ScreenAnarchy. You can find her stories "The Dark Lights" in "Dark Moon Digest;" "Demons of 1994" in "Tales From the Crust;" "I Did it for the Art" in "Fright Into Flight;" "Famous Last Words" in "Lost Films;" "Tilberian Holiday" in "Wicked Witches;" and "The Lake Children" in both "Now I Lay Me Down To Sleep" and "Hydrophobia," with more to come. She's currently at work on several short stories and scripts.
When she's not writing, she directs short films, often from an outsider perspective with a socio-political bent, such as Re-Home, My Monster, Rites of Vengeance, For A Good Time, Call..., and Postpartum. Her shorts have screened with such films as Tigers Are Not Afraid, Await Further Instructions, American Psycho, Prevenge, Baskin, Antibirth, The Villainess, Replace, Tales of Halloween, They Look Like People, The Love Witch, The Lords of Salem, Midnighters, Assasinaut, Culture Shock, and The Sacrament.

Thank you to our sponsors